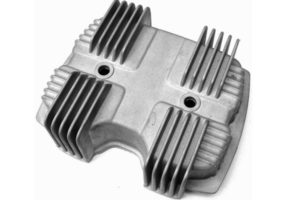 Aluminum die castings
As a professional metal casting manucaturer in China, we offer aluminum die casting services for many years.The above sample are aluminum die casting housing for motorcycle engine. We made it according to customer's drawing.We not only production the parts,but also offer one-stop serives and solution on your casting parts.
Aluminum castings have different methods in different places, such as aluminum die-casting parts, die-casting aluminum parts, die-casting aluminum parts, die-casting aluminum, aluminum castings, aluminum alloy die-casting parts, etc.
Because of the good fluidity and plasticity of the metal aluminum and the aluminum alloy, and the casting process is made in the pressure die-casting machine, the aluminum die casting can make all kinds of more complex shapes, and also make high precision and finish, which greatly reduces the mechanical processing amount of the casting and the aluminum or aluminum alloy. The casting allowance of gold not only saves electric power, metal material, but also greatly saves labor cost, while aluminum and aluminum alloy have excellent thermal conductivity, small proportion and high machinability, and aluminum die casting is widely used in automobile manufacturing, internal combustion engine production, motorcycle manufacturing, motor manufacturing, oil pump manufacturing, and transmission. Mobile machinery manufacturing, precision instruments, landscaping, power construction, building decoration and other industries.
Aluminum die casting housing
Motorcycle engine parts. Motorcycle spare parts.
We are a real factory that is professional on die casting, both die casting moulds and die casting parts.
Item
Description
Die casting
parts
Model
High Quality aluminum die casting housing for motorcycle engine clutch
Molding technics
Die casting
Material
ADC12,A380,AlSi12,A356,ZL102,YL104,YL112,YL113,
and many other aluminum alloy are all acceptable.
Dimension
As drawings or samples
Surface treatment
Sandblasting, Painting, Powder coating, Anodize,
Galvanized, Chrome plating, Nickel plating,etc.
Die casting moulds
Cavity
Single or Multiple
Material
H13,DIEVAR,QDN,8407,2344V,TQ1,2343,SKD61,
45#steel,etc.
Heat treatment
Hardened,Nitriding
Hardness
HRC50~55
Mould feature
Advanced design,   Novel structure,   High precision,
Quality materials,  Long lifetime,  Short delivery time
Equipment
CNC precision mould engraving machine, CNC forming machine,
CNC turning, EDM, Linear cutting machine, Die spotting machine(200T),
Die casting machine(180T~1250T),  Lathe, Grinding machine;
CMM,  Material detector,  Hardness test device,  spectrograph,etc.
Software
CAD,  UG,  Pro/E,  JSCAST-v8 of Japan,  FLOW3D.v9.2 of America, etc.
Quality certification
UKAS & SGS ISO9001:2008
Advantage
Quality
Insist on making every detail carefully always
Price
Maybe not the lowest, but must be the reasonable and
competitive price
Delivery
Never later than the delivery time in contract
Service
1. Wherever and whenever you send question, always
get answer not more than 2 working days.
2. When have trouble during project processing, always
find out problem and solve it first with customer,
then ascertain where the responsibility lies,our party
or customer side.
R&D
Plentiful experience and skillful technique on die casting
Team
United and positive team