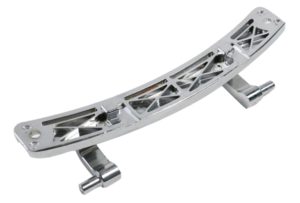 Die Casting manufacturer in China
Die casting can produce complex shape, clear outline, thin-walled deep cavity metal parts: because of the molten metal under high pressure high speed Maintain a high liquidity,Therefore can obtain other process method is difficult to machining metal parts.
Product Details
Name: Chrome Plated Casting Handle
Process: Die Casting
Unit weight: 134g
MOQ: 1000 pieces
Application: Window handle
Certification: ISO9001, TS16949, ROHS Certificate
This part is a window handle with chrome plated surface treatment. It is being selling in Europe.
Die casting ability
Process

1.Alumium alloy die casting:  A360/A380/A390D/ADC10/ADC12/ZL110, ZL101,102,114, etc.
2.Zinc alloy die casting:         ZDC1/ZDC2/Zamak 3/Zamak5/ZA8/ZL4-1,etc.
3.CNC machining:                  6061 6063
4.MOLD MANFACTURING:     from designing drawings in prt/fem/igs/stp/dxf/model/x-t/x-b form etc. to mould making to qualified samples supplying.

Machines
1. Cold chamber die casting machines:180T/280T/500T/800T/1250T2. Hot chamber die casting machinies: 58T/88T/168T

3. CNC centers, CNC turnings, CNC lathes, Electrinc pluse, Wire EDM, milling, drilling, grinding.

Surface Treatment
Polishing, shot blasting, sand blasting, painting, powder coating, anodizing, Plating chrome, Plating nickel, Plating zinc, Electrophoresis, Passivation, Chemical coating film, etc.
Software
Pro/E,UG, Solidworks, Auto CAD, PDF
ProductsApplication

1.Automobile and motorcycle parts: engine cover, cylinder head, brake pad, shraft, clutch, etc.
2.Lights & lamps parts: heatsink, lamp cup, light housing,  LED/street/down lamp spares, etc.
3.Doors and windows parts: door(window)handle/hinge/lock, door stop, glass clamp, etc.
4.Electrical appliance parts: connector, telephone junction box ,waterproof terminal box, etc.
5.Furniture hardware fittings: sofa legs,  furniture brackets,  staircase fitting, handle,decorations, etc.
6.Industrial hardwares: control valve housing, air tools, engine cover, instrument parts, etc.

7.Machine spareparts: machine vavle, base plate, end plate, propeller parts, etc.
How to place a order with us
Generally speaking, the procedure is usually as follows:-
-Send us enquiry by either email or fax, and we will make you detailed offer.
-After everything is confirmed, we will send you a Pro forma invoice in which our bank information is included.
-We will arrange production after receipt of 30% deposit. (50% deposit of mould cost)
-We make shipment and you pay the balance after produciton finishes,
-Full set of original shipping documents will be sent to you by courier after we receive final payment,
-Then you can take delivery based on these documents at your port.