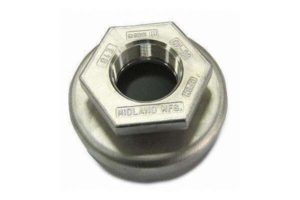 Investment Casting Manufacturer
Located in Ningbo china,we offer precision Investment Casting services for many years.The above sample are for reference only and it's made by Silica sol Investment Casting
Silica sol Investment Casting
Silicon Sol Investment Casting: the main production of high precision casting, in order to produce stainless steel 304, 316 material, the product is generally 0.01kg—50kg, mainly supply the international market. According to customer requirements, we can provide machined and polished products.
Silica sol is a colloidal solution, odorless and non-toxic, and its molecular formula can be expressed as mSiO2nH2O..
1., because colloidal particles are fine (10 – 20nm), they have large specific surface area, and the particles themselves are colorless and transparent, which does not affect the color of the covering.
2., low viscosity and permeable water can permeate. Therefore, when mixed with other substances, the dispersity and permeability are very good.
3., when the silica sol evaporates, the colloidal particles are firmly attached to the surface of the object, and silicon dioxide is formed between particles, which is a good adhesive.
Silica sol Investment Casting material
Stainless steel, carbon steel, alloy steel, ductile iron, gray iron, aluminum, copper etc.
Silica sol Casting
Main Product:

 stainless Steel casting, Lost Wax Casting,Investment Casting,Silica sol Casting
Standard:
    ASTM, AISI, BS, DIN, JIS, NF
Material :
      stainless steel(SS201,SS303,SS316,SS416,SS420)
Weight Rang:
      0.01KG~100KG (Depending on the actual design)
Design:
 Pro/E, Auto CAD, Solid work, CAXA UG, CAM, CAE.
Process:
Casting+Machining(if you need)+Surface treatment
Procesing Method:
Lathing,Milling,boring,pulling,drilling,CNC mechining (Futher Process if you need)
Heat Treatment:
   Quenching,Normalizing,Quenching and Tempering,Chemical heat treatment
Surface:

   Polishing,Plating,Painting,Anodizing,Powder Coating,Sand blasting….

Quality Control:
 100% inspection on critical dimensions or follow your special requst.
Machining:

       turning , milling, drilling, grinding, threading, CNC machining, etc.
Please submit as much of the below information as possible:
1. Pls provide complete 2D drawings of raw castings or finished parts which should be clearly indicate followings;
Casting parts material,tolerances,heat treatment,surface treatment requiremnts;
Point out the machining datum,key dimensions tolerance & important surfaces that need to pay  attenttion to.
2. 3D drawings and samples are very necessary and helpfull for our quoting.
3. Testing and inspecting of the project & reporting requirements.
4. Order size and annual demand.
5. The requirements of process, packing and delivery.
6. FOB, CIF or EXW