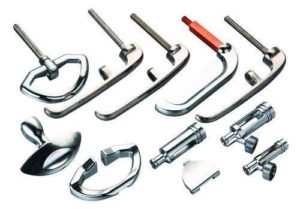 Zamak die casting in China
We make a lot of different shaped Zamak die casting Handle according to customer's drawings or sample.The above picture for sample are your reference only. We don't sell them directly.
Products detail
Item name:Zamak die casting Handle
Material: Zinc alloy
Weight: 0.2KG-0.6Kg
Finish: Chrome plating
Process: Die casting
Die casting is a manufacturing process for producing metal parts(Mainly Aluminum,Zinc alloy) by forcing molten metal under high pressure into a die cavity. Generally speaking, these die or mold cavities are created with hardened tool steel that have been previously machined to the net shape or near net shape of the die cast parts. This process allows products to be made with high degree of accuracy and repeatibility. The die casting process also produce fine details such as textured surfaces or names without requiring further processing.
Die cast

Ability:
Service:
OEM/ODM custom die casting

Material:

Die casting:Aluminum & Aluminum alloy  A360, A380, A390,  ADC12,ADC10,ALSI09 etc..
Zinc & Zinc alloy. ZA-3,ZA-5,ZA-8
Sand casting:ZL101,ZL104,ZL102 etc..
weight
According to your sample or drawings.
Manufacture Process
1. Process:High Pressure Die Casting, Die Casting/sand casting/gravity casting
2.Secondary Machining: CNC turning, milling, drilling, grinding, assembly to Packing
Surface Treatment
1. Sand blasting
2. Zinc/chrome plating
3. Powder coating
4. Anodizing
5. Polishing
6. electrophoresis
7.Anodize etc..
Production usage
1. Auto parts
2. motorcycle parts
3. pump parts
4. locomotive parts
5. machinery parts
6. tool parts
7.Lighting parts
8.Furniture parts
9.Handheld Devices
10.Networking and Telecommunication
How to place a order with us
Generally speaking, the procedure is usually as follows:-
-Send us enquiry by either email or fax, and we will make you detailed offer.
-After everything is confirmed, we will send you a Pro forma invoice in which our bank information is included.
-We will arrange production after receipt of 30% deposit. (50% deposit of mould cost)
-We make shipment and you pay the balance after produciton finishes,
-Full set of original shipping documents will be sent to you by courier after we receive final payment,
-Then you can take delivery based on these documents at your port.