Sand Casting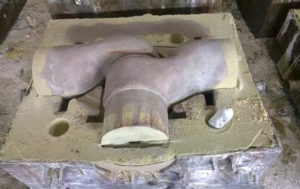 Sand casting is a widely used process of casting. As the name shows, the mold is made of sand. Sand casting requires the incorporation of finished parts, models, or wooden models in sand, and then fills the sand at the end of the pattern and opens the box to remove the shape.
In order to remove the mold before casting the metal, the mold shall be made of two or more parts. In the mold making process, the hole and the exhaust hole shall be cast into the mold and the synthetic gating system shall be provided. After casting the metal liquid, keep it for the right time until the metal solidifies. When the parts are removed, the mold is destroyed, so a new mold must be made for each casting. A sand mould factory can cast large parts. Sand molds can be used in iron casting, bronze casting, brass casting and aluminum casting. Wet mold casting is another kind of sand casting process, which is cheap in cost and can produce parts of various sizes
Sand Casting Manufacturer
Available product name

Sprocket, gear, flange,gear box,valve, Roller, pulley,casting,forging,stamping,injection parts,

Machining

parts, bearing house, worm gear and worm shaft , spline shaft/house , wheel hub, Mould design and other harware products

Material

stainless steel, Metal, Aluminum&alloy, Carbon steel,Iron,Brass,plastic,zinc&alloy……

Production process

precision casting, sand casting,

die casting

,forging ,welding,gravity casting,lost wax casting,investment casting,stamping,CNC machining,injection…..

Surface treatment

sand blasting,baking paint,chorme/zinc plating,spray paint,spray coating,oxygenation, polishing, electroplating, grind,oil blooming,blacking, Knurl, E-coat,deburring……

Standard

OEM, as drawing design.

Used

building industry machinery, Auto parts, Agricultural machine, instrucment accessories, electronic accessories…
Process
Material
Standard
Sand casting
Green sand
Grey Iron, Ductile Iron, Malleable Iron
Stainless steel, Carbon steel, Aluminum
Brass, Bronze
ASTM, DIN, ISO
Furan Resin Sand
Cold Harden Resin Sand
Investment casting
Sodium Silicone
Stainless steel, Carbon steel, Special alloy steel bronze, brass, aluminum
Silica sol
Forging
Hammer forging
Stainless steel, Carbon steel, Alloy steel
Brass, aluminum
Die forging
Roll forging
Stamping machining
Stamping machining
All metal material
Product Description:
Casting precision grade: CT6-CT13 grade
Casting size: 20mm – 2000cm
Casting surface roughness: Ra6.3-800
Casting Single Weight: 20g-1200kg
Processing Technology:
1. Resin sand steel casting process
2. Casting Steel Produced by Modified Sodium Silicate Sand
3. Water glass precision steel casting process
4. Silica Sol Precision steel Casting process
Metal Casting Ranges:
1. Sand Casting, Resin Sand Casting and Shell Mold Casting;
2. Investment Casting
3. Grey Iron casting
4. Ductile Iron casting
5. Lost Foam Casting
6. Die Casting
7, Aluminum Casting
8,Stainless Steel Casting
9. CNC Machining.
Our advantage:
1. Experience in casting for many years and served customers all around the world;
2. Good customer feedback and good reputation;
3. Competitive price and quality service;
4. Advanced machining and inspecting equipment;
5. Good quality control system;
6. Punctual delivery time.
7. Small order is welcome.
Production Equipment:
1. Our factory has many years' experience in casting industry.
2. We have 96 workers, 3 engineers and 6 quality inspectors. We are mainly engaged in ductile iron casting ( materials: 400-18, 400-15, 450-10, 450-12, 500-7, 600-7, 700-2, 800-2) and gray iron casting ( materials: HT150, HT200, HT250, HT300) , and the weight is between 0.5kg to 100kg ( for 100kg+, we have out source).
3. Our factory has installed dust removing equipment and our products are environmental protection.
4. Our products are totally for export and mainly export to Europe and America, therefore, we know the technical standard of Europe and America very well.
Why Choose Us?
1. Rich experience and resources of various manufactures
Our foreign trade sales team members have many years working experience.Our company has enormous resources of various manufacturers and distributors.And we can meet customers' various needs in quality,quantity,price and delivery time etc.
2. Excellent service before purchasing
According to clients' circumstances, we will recommend most suitable parts for them.Our company haenormous resources of various manufacturers and distributors.Professional service and positive feedback.
3. Competitive price and guaranteed quality
Competitive and reasonable price to help customers to win markets, reliable supplier and stable quality guarantee.